Source
the Guardian
, 
Alan Morison and Chutima Sidasathian, of news website Phuketwan, were accused in case that alarmed human rights and press freedom groups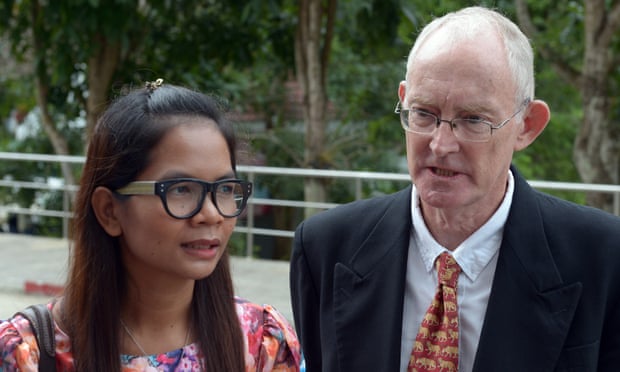 Thai journalist Chutima Sidasathian and her Australian colleague Alan Morison arrive at the provincial court in Phuket island. Photograph: Pornchai Kittiwongsakul/AFP/Getty Images 

Monday 31 August 2015 23.16 EDT Last modified on Monday 31 August 2015 23.18 EDT
An Australian editor and his Thai reporter colleague were found not guilty on Tuesday of criminal defamation for reporting on the alleged involvement of Thai naval officers in the trafficking of Burmese Rohingya refugees.
Alan Morison, editor of independent news website Phuketwan, and reporter Chutima Sidasathian 
faced up to seven years in jail and thousands of US dollars in fines.
Speaking to the Guardian ahead of the court session, Morison said that the year-long case had deeply affected the duo's daily life in Phuket, a tourist hotspot in the Andaman Sea.
"We've felt constant pressure one way or another," he said on the telephone. "We've conscientiously used work as a diversion and evidently being sued by an organisation as mighty as the Royal Thai navy, you can't help but feel some the pressure."
He said he was "reasonably confident" that he would be acquitted as the lawyers had worked hard and the judge appeared to have listened to what he said.
But he was worried that he might not be getting the full picture. "The thing is that nobody is ever going to tell us that they've heard is bad things … We're living in a kind of fairyland before the verdict."
The case – widely condemned by human rights and media freedom groups – has damaged Thailand's reputation. Morison, who is 67, had said a guilty verdict would be a death sentence for him at his age.
A note posted before the trial on the 
Phuketwan website said: "Two Phuketwan journalists face judgement day in the trial triggered by the Royal Thai navy so the island's online news source of preference is suspended from September 1. The future of the site has yet to be determined."
Advertisement
The defamation claims and charges under the Computer Crime Act, which bans online material considered a threat to national security, relate to a 41-word paragraph from a Reuters news agency report on Rohingya refugees, which was
republished in Phuketwan.
Reuters, a huge news organisation of more than 2,600 journalists which 
won a Pulitzer prize for its reporting on the Rohingya issue, has not been charged.
Thailand's navy has denied its officers were involved in human trafficking. But since the charges were made against the two journalists, the Thai government has launched investigations into official complicity into the trafficking trade and a 
senior military official was arrested.
Thailand's ruling junta, which toppled the government in a coup last May, has stifled the media and banned political gatherings.
Phil Robertson, deputy director for the Asia division of Human Rights Watch, said ahead of the verdict that the "case should have never been brought to trial in the first place, and the fact that it was shows this Thai government's total lack of concern for media freedom".
He added: "This whole episode shows a fundamental lack of understanding among Thai government and military officials about what a free press is really about and the role it plays in democratic society."